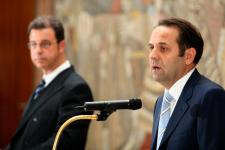 The chair of Serbia's council for cooperation with the Hague Tribunal, Rasim Ljajic, believes that the Tribunal Chief Prosecutor Serge Brammertz will give Serbia an upbeat assessment when he visits the country on Wednesday.
Brammertz will discuss Serbia's cooperation with the International Criminal Tribunal for the former Yugoslavia, ICTY, and gather information for an upcoming report to the UN Security Council.
However, in an interview with daily Vecernje Novosti, Ljajic said that he does not expect the Prosecutor to say that Serbia is co-operating fully.
"I would like Brammertz to prove me wrong, because we really deserve to hear the term 'full cooperation,' since we are doing everything within our power to finish the last steps and arrest Ratko Mladic and Goran Hadzic," the daily quoted Ljajic as saying.
A verdict of full cooperation would doubtelss mean that the Netherlands would ease it current stance on Serbia, Ljajic said. The country is currently strongly opposed to the unblocking of a trade deal with the EU before the remaining two war crimes fugitives are handed over.
According to the daily Blic, US Secretary of State Hillary Clinton and new US War Crimes Ambassador Stephen Rapp are convinced that Serbia is cooperating fully with the Hague Tribunal and will press the Dutch to unblock the trade pact.
Ljajic reiterated in the interview his earlier announcements that Mladic would be arrested and extradited by the end of this year and that he will resign as the coordinator of the Tribunal cooperation team if this does not happen.
"On the other side, we implemented super-human efforts in order to get these indictees to The Hague. These activities are daily, some are visible and public, some are not, but no one is doubting our intentions anymore," Vecernje Novosti quoted him as saying.