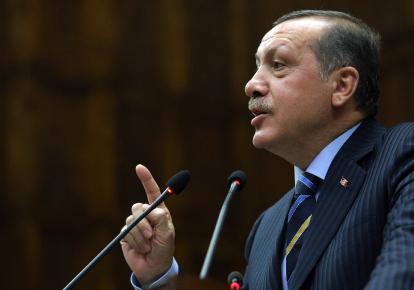 Turkey is still anchored to the West and closer ties with neighboring Iran do not indicate a change of course in foreign policy, Prime Minister Recep Tayyip Erdoğan said Tuesday, brushing aside criticism of his recent trip to the Islamic Republic.
Erdoğan's visit to Iran in late October and his defense of Tehran's controversial nuclear program caused concern at home and abroad that NATO's sole Muslim member was sliding away from the West as its bid to join the European Union faces stern opposition from some member countries.
"Turkey's foreign policy has not changed course, but its foreign policy is normalizing" when it comes to neighboring countries, Erdoğan said in a speech to deputies in his Justice and Development Party, or AKP.
"Why should we turn our backs to other avenues? Turkey is anchored to European institutions and is at the same time a member of the Organization of the Islamic Conference," the world's largest Islamic organization, he added.
The prime minister renewed calls on Western powers to adopt a "just approach" toward Iran's nuclear program.
"The states that criticize Iran have these [nuclear] weapons," he said. "We need to eliminate them all from the region and the world."
His comment was seen as a reference to Israel, believed to be the Middle East's sole but undeclared nuclear state.
Turkey has been a regional ally of Israel since a 1996 military agreement, but bilateral ties took a sharp downturn last month when Ankara excluded the Jewish state from annual joint military exercises.
Turkish leaders said the snub came amid ongoing bitterness in Ankara over Israel's war on Gaza at the start of the year and called on the Jewish state to end the "humanitarian tragedy" there for ties to recover.
"Criticizing what happened [in Gaza] does not mean Turkey has changed course. … We will continue to oppose the killing of children, women and defenseless people wherever it happens," Erdoğan said.