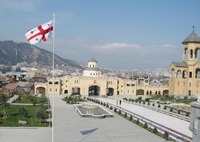 Russia to some extent is trying to hinder the economic development of Georgia, the chairman of the parliamentary committee on international relations Akaki Minashvili said responding to the accusations of Russia's intelligence that as though Georgia is preparing for a military provocation.
The MP said in an interview with journalists that Russia's goal is to create the image of an unstable country for Georgia and suspend investment income. "There is a danger that Russia itself is preparing for a provocation," he said.
Minashvili said that to prevent this, we need to strengthen and expand monitoring of the EU.
The chairman of the parliamentary committee on European integration David Darchiashvili also responded to statements made by Russia. He told journalists that Russia's intelligence service is an organization that displays the imperialism of the State.
According to him, Georgia acts in accordance with international law, which does not recognize the aggression and condemns this method.
According to Vice-Speaker Levan Vepkhvadze, in such a situation, Georgia should attract international attention to the fact that next intervention is prepared against the country. He noted that the Georgian side should make every effort to avoid this.