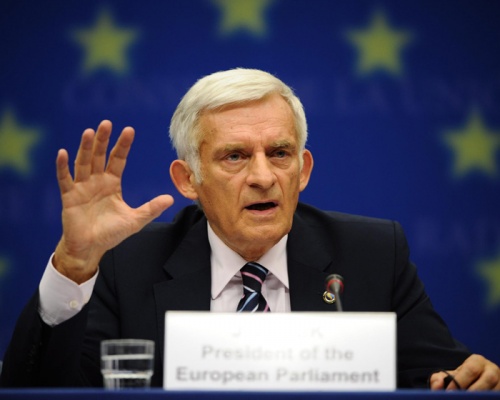 The President of the European Parliament Jerzy Buzek has issued a special address to the Bulgarian people on the occasion of the 20th year since November 10, 1989, coup that led to the collapse of the country's communist regime.
"There's no freedom without solidarity," said the President of the European Parliament Jerzy Buzek in his message to the people of Bulgaria on the occasion of the 20th anniversary of November 10, 1989.
"This is also true today as it was true in the 80's when I was part of the Solidarnost movement," said the Polish politician.
"Before 1989, we lived in a Europe with walls, in a divided Europe. The fall of the Berlin wall and the collapse of the Iron Curtain led to the unification of Europe."
"Communism in Bulgaria destroyed its historical heritage and tried to change history entirely, buried the economy of the country, took away from the nation its identity and from its citizens all freedom of speech in the same ways as other countries under the same regime."
"I know that because I have been through it in my country. Then, in 1980, my generation started the struggle for freedom in Gdansk. Just like the people of Sofia, dissident organizations, such as the Independent Movement for the protection of Human rights, the Club for Glasnost and Democracy, Ecoglasnost and the Podkrepa Labor Confederation, we thought we were very few and that we were doomed to failure," said Burek.
"But gradually we realized that we were numerous, we felt it, and we were destined in that fateful year 1989, 20 years ago, to bring the walls down, which were a prison for another 100 million like us," stressed Jerzy Buzek.
He warmly congratulated Bulgaria on its present achievements: "After 20 years, Bulgaria is a full member of EU and NATO and is applying its rights exactly like the other countries in Europe. Today – 20 years later – we are once again facing our future."
"Free, democratic and proud! We transformed the spirit of Europe. We were closed in, but now we are back in our European family of free nations!" concluded the President of the European Parliament.