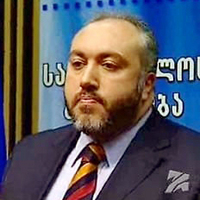 Georgian State Reintegration Minister Temur Yakobashvili discussed the country's occupied territories and de-occupation with EU diplomats. The sides also analyzed the national strategy toward the occupied territories, which is still under development, Yakobashvili said.
According to the minister, it was symbolic that the meeting was held at the Radisson Hotel, where refugees from Abkhazia lived several years ago.
"New refugees have homes and this is the EU's merit, too. We continue to work on repatriating refugees together with the EU," he added.
Yakobashvili believes new mechanisms must be developed to prevent kidnapping and future abductions. A possible mechanism may be sending EU observers to the occupied territories.
The minister noted with regret that no new information is available about four Georgian teens kidnapped earlier this month. According to Yakobashvili, the sides also discussed human rights violations that have taken on a systematic character in the occupied territories.
"They kidnap loggers, fishermen, and children and probably will soon begin to abduct the elderly," he said.
According to Yakobashvili, the entrance of EU observers into the occupied territories is the only way out of the situation. He noted that the observers promised to pressure Russia on the issue.