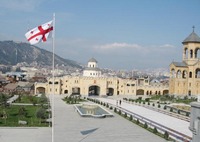 Council of Europe (CE) Commissioner for Human Rights Thomas Hammarberg will pay a visit to Georgia today. His visit will last till December 4, the information bureau of the CE in Georgia reported.
Georgia demands Hammarberg to be more active in release of the teens detained in Tskhinvali on charges of planning a terrorist act and illegal crossing of the South Ossetia borders.
Meanwhile, Tskhinvali has already stated that it will not mull the release of teens with Hammarberg.