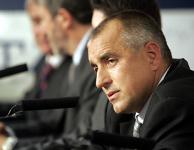 Bulgaria's ambassador in Washington, Luchezar Petkov, had resigned, President Georgi Purvanov confirmed on Tuesday.
Petkov's resignation followed the announcement on 13 November that the ambassador in Ankara, Branimir Mladenov, has also resigned.
Both have been at the centre of a stand-off between Boiko Borisov's government and President Georgi Purvanov. Borisov wanted the two ambassadors to step down because of alleged irregularities at voting stations in the US and Turkey during Bulgaria's July 2009 national parliamentary elections.
Purvanov, speaking after a 1 December meeting with Borisov and National Assembly Speaker Tsetska Tsacheva, said that the decrees confirming the withdrawal of the two ambassadors would be prepared on Wednesday and Thursday this week, Sofia Echo reports.
"The most important thing is who will replace them, because these are states with which we have strategic interests," Purvanov said.
The cabinet's decision to recall the two ambassadors earlier caused a public dispute between Purvanov and Borissov.
After Foreign Minister Roumyana Zheleva and the cabinet sent a request to Purvanov's office to withdraw the ambassadors, Purvanov said that he had not been informed in detail about the two ambassadors' violations and could not sign a decree which was sent to his administration at the last moment.
If the two ambassadors had broken the law, Purvanov said at the time, he would sign the decrees recalling them, but he wanted more information.
Meanwhile, as the saga dragged on, Zheleva made it clear to the two ambassadors that they did not have her support.
Since then, two smaller parties that support the government, but are not part of the government, said Purvanov should face impeachment for his actions over the past eight years and the fact that he used to work for the communist-era secret service.