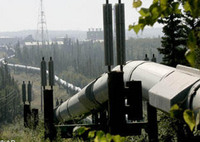 Bulgaria is prepared to participate in both the South Stream and Nabucco gas line projects, Bulgaria's Prime Minister Boyko Borisov said adding that the one that would start earlier would be the one to be joined first, without giving up the other.
"Nabucco" is a priority of the European Union while the Russian "South Stream" is moving forward very quickly and many European countries are joining it almost daily," Borisov said.
Bulgaria can take part in both projects because both are good for the country.
Despite statements by representatives of both projects, Nabucco and South Stream, are actually competing projects.
Nabucco is supported by the European Union and aims to reduce dependence on Russia's gas and diversify routes and sources of energy supplies. Nabucco gas pipeline project is worth € 7.9 billion. Participants of the project are Austrian OMV, Hungarian MOL, Bulgarian Bulgargaz, Romanian Transgaz, Turkish Botas and German RWE companies. Each of participants has equal share to the amount of 16.67 percent. Construction of gas pipeline is planned to be launched in 2011, the first supplies – in 2014. Maximal capacity of the pipeline will hit 31 billion cubic meters per year. Nabucco Gas Pipeline International shareholders will invest 30 percent of total cost of the project, the rest 70 percent will be paid owing to loans.
The political agreement among the Nabucco transit countries, Austria, Hungary, Romania, Bulgaria and Turkey signed in Ankara Germany July 13 was an important step towards the realization of this project. The next step will be start of "open season" involving accepting applications to fill the pipeline in the first quarter of 2010. A final investment decision on the project is expected to be made in the fourth quarter of 2010.
South Stream worth $ 25 billion provides for the delivery of Russian gas to South and Central Europe across the Black Sea. The project's main participants are Russia's Gazprom and Italy's ENI. The pipeline is expected to launch in 2015. Its maximum capacity will be 63 billion cubic meters per year.