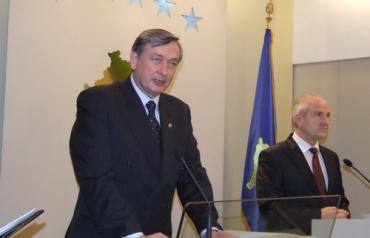 Slovenian President Danilo Turk is in Kosovo today for meetings with Fatmir Sejdiu and Hashim Thaci.
The visit, described as official, will also see Turk meet with the Kosovo assembly president, Jakup Krasniqi.
As he meets with the Kosovo Albanian president and prime minister, they will discuss "bilateral relations between Slovenia and Kosovo, above all the possible strengthening of economic cooperation, especially trade, investments and tourism", reports ahead of Turk's trip said.
Besides that, the Slovenian president will meet with representatives of EULEX, UNMIK and KFOR, to discuss "Slovenia's role in providing stability in Kosovo and development cooperation".
The announcements today added that Turk would engage in an "exchange of opinions about the region's European perspective with Kosovo officials".
At the end of the visit, he will attend a celebration of "Slovenian Independence and Unity Day where he will give a ceremonial speech", the reports said.
Back in Slovenia, the president's trip today means that the opposition Slovenian Democratic Party youth will have to postpone their "decoration ceremony".
The Janez Janša's party planned to "award Turk with a decoration" for a scandal that broke out after a medal was given to former chief of the former Yugoslav security agency in Slovenia, Tomaž Ertl.
The accolade caused strong reactions both in Slovenia and Europe, our reporter says.
The European National Party in the European parliament stated that decorating Ertl was the same as decorating former chiefs of East Germany's Stasi service, adding that the recognition of the former chief of the Slovenian communist secret police was a negative message for both Slovenian and foreign public.
Ertl earned his medal from the Slovenian president for his role in preventing the 1989 rally planned to take place in Ljubljana, dubbed "the Rally of Truth", that was to gather Serbs and Montenegrins from Kosovo.