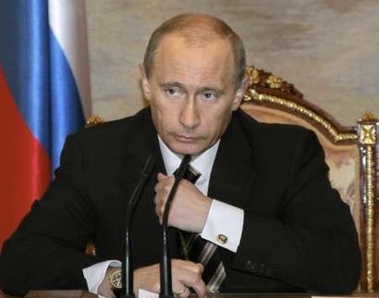 A World War II monument recently demolished in Georgia may be rebuilt in Moscow, Prime Minister Vladimir Putin said Tuesday.
Putin told the government's presidium that the demolition of the monument was "another attempt to erase the former Soviet people's memory of their common past."
"I believe it is possible to recreate this monument in the capital of our former union state — Moscow," Putin said.
The 46-meter tall monument, located in Kutaisi, Georgia's second largest city, was demolished Saturday to make way for the parliament's new building.
The Russian Foreign Ministry has condemned the dismantlement of the monument, saying Georgian authorities attempted to "erase the historical memory of its own people" and disrespected those who fought against fascism in World War II to defend their homeland.
The Russian Defense Ministry said about 300,000 Georgian soldiers were killed while fighting in the Soviet army during World War II.