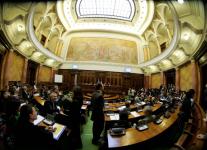 Serbia's ruling Democratic Party, DS, announced it might re-examine relations with its coalition partners after four deputies of an ethnic minority party, Alliance of Vojvodina Hungarians, SVM, voted on Monday against the draft budget for next year.
Parliament met on Monday to approve the draft bill. The SVM decided not to support the bill because of disagreements over the amount of money earmarked for the northern province of Vojvodina, home to Serbia's ethnic Hungarian minority.
In the end, the ruling coalition cobbled together the necessary number of votes to approve the budget with the help of two independent parliamentarians, Vladan Batic and Jovan Damjanovic – and an ethnic Albanian deputy from southern Serbia, Riza Halimi. 127 out of 250 parliamentary members voted for the bill.
A minister in the government, Oliver Dulic, said that while "nobody is happy to be reexamining relations within the ruling coalition, it's clear there will have to be a conversation". The Democrats' whip, Nada Kolundzija, agreed that serious talks on the issue were necessary.
However, one SVM deputy, Balint Pastor, said he did not expect anything to change, regardless of the unpleasant words that other members of the coalition were addressing to his party.
"We are partner of the DS and of all the others in the ruling coalition, and they can count on us, but no one can count on us to vote against the interests of our voters," Pastor said.
He recalled that while SVM representatives had expressed willingness to talk about the vote on the budget, the Democrats hadn't been interested in discussing their coalition partners' stance on the issue; they only wanted to gather enough votes.
Another partner party of the government, the Socialist Party of Serbia, had not voted for the government's Information Law, "but there were no rumors then about the destruction of the government," Pastor noted.