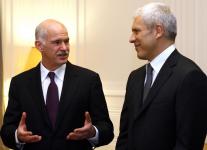 Greek Prime Minister George Papandreou came to Belgrade on Monday to voice his support for Serbia's and the Western Balkans' integration into the EU, citing 2014 as a possible target date.
According to the Greek news agency ANA, Papandreou noted that his presence in Belgrade is a signal for an effort to enable the region to join the EU by that date.
"Greece is in the front line of the initiative that constitutes a basic aim for peace, cooperation and stability in the region," Papandreou said.
The Greek prime minister came to Belgrade on Monday as the guest of honor to the Ambassadors' Conference, which is organised by the Serbian Ministry of Foreign Affairs. He also met with Serbian President Boris Tadic and the country's Prime Minister Mirko Cvetkovic.
Tadic said that Serbia and Greece are historic friends who will be strategic partners in the future.
"George Papandreou has once again given us his support on our road towards European integration. This is the man who launched Agenda 2014, when all of southeastern Europe should become part of the EU, a hundred years after the start of the First World War," Tadic said.
Besides EU integration of the region, the talks also included discussion of bilateral relations, economic difficulties and the joint fight against corruption and organised crime.
"There are hardly any issues on which we have a different stance. There are hardly any problems our countries and Europe are facing on which we have different positions. I can say that our partnership has a significant strategic dimension," Tadic pointed out.