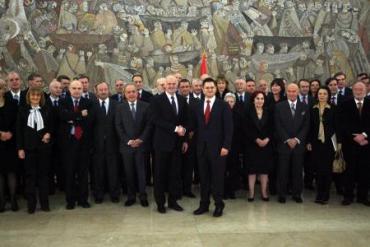 Vuk Jeremić opened the two-day Ambassadors' Conference in the Palace of Serbia on Monday.
The guest of honor at the conference was Greek Prime Minister George Papandreou, who also addressed the gathering.
Jeremić said that the priority of Serbia's foreign policies in the coming year will be the continuation of the process of European integration, a peaceful defense of the constitutional order, a consolidation of stability and cooperation in the region, and a deepening of economic cooperation with the countries of the world.
He said that the four pillars of Serbia's foreign policies are Brussels, Moscow, Beijing and Washington.
Jeremić added that Serbia is determined to finish its cooperation with the Hague Tribunal, because it is not only the country's legal obligation, but also an ethical obligations for the Serbian people, their neighbors and the entire world.
Regarding Kosovo, Jeremić said that Serbia's position will not change this year.
"Our red lines are clear and permanent. We will never recognize the unilateral independence proclamation of Kosovo. That is our constitutional, moral and historic obligation," he said.
Speaking on cooperation in the Western Balkans, the Serbian minister that Belgrade will continue to be the initiator of speedier European integration for the entire region, adding that Serbia will continue to defense the interests of Serbs who living outside the country as well.
He said that economic diplomacy will also be a priority.
Jeremić also thanked his Greek guest for coming to Belgrade.
Papandreou said that Serbia's future is in the European family, and said that Greece will be an important partner on that road for Serbia and the entire region.
He said that 2014 is the goal year of EU entrance for the Western Balkans, adding that Greece wishes to be the engine that will push the process along.
Papandreou said that reforms must be implemented in order to progress on the path towards EU integration, adding that while some of the reforms are difficult, the political leadership must be courageous.
He said that late Prime Minister Zoran Đinđić paid with his life for his courage for implementing reforms, reminding that the current government and president of Serbia are completely oriented towards Serbia's European perspective.
He said that he understands how sensitive the issue of Kosovo is for Serbia, adding that Kosovo is an example in which the weakness of international law was shown regarding the question of the principle preservation of territorial integrity and the right to self-determination.
The two-day conference will continue on Tuesday with President Boris Tadić and Mirko Cvetković expected to address the guests, along with Interior and Defense Ministers Ivica Dačić and Dragan Šutanovac.