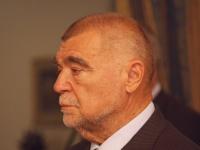 Croatian President Stjepan Mesic during his visit to Kosovo on Friday was honored by the Kosovo's President with the "Golden Medal of Independence", while Pristina declared him an honourary citizen.
During the meeting with his Kosovar counterpart Fatmir Sejdiu, Mesic said the award is the highest the newest state in the world can give and as such is special to him.
"First we recognised the independence of the Republic of Kosovo, then established diplomatic ties, we have sent the ambassador… we should work toward the future," said Mesic after receiving the award.
President Sejdiu said that President Mesic has always been a firm supporter of legislative process, and a firm believer in Kosovo's freedom. "President Mesic is one of the few personalities that supported the right of Kosovo's people for freedom and independence," said Sejdiu.
Mesic, who is stepping down next month, will also visit 20 Croatian soldiers serving in NATO's force in Kosovo, as well as the village of Janjevo, some 20 kilomteres from Prsitina, where a Croatian community lives.