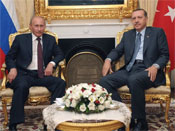 Turkey and Russia will set up a high-level strategic cooperation working group Wednesday when Turkish Prime Minister Recep Tayyip Erdoğan pays a working visit to Moscow. Accompanied by five Cabinet members and a group of businessmen, the prime minister aims to boost bilateral relations, especially in the economic field.
Turkey's Prime Minister Recep Tayyip Erdoğan and his Russian counterpart Vladimir Putin will discuss ways to strengthen strategic and economic ties during a two-day working visit later this week in Russia.
During their meeting, the two leaders plan to establish a high-level strategic cooperation working group while energy will also be at the top of the agenda, Russian diplomatic sources said.
"They are dominant actors and are strategic partners in the region. Russia wants to export its energy through a more secure route while Turkey is keen on strengthening its position as an energy corridor. It's a win-win situation," a Turkish official requesting anonymity told the Hürriyet Daily News & Economic Review on Monday.
The working group will be co-chaired at the prime ministerial level while other ministers coordinate the meetings with the participation of senior bureaucrats. "It is a clear sign that the cooperation will go further as a result of mutual respect," the same official said.
Erdoğan will meet some 300 Turkish entrepreneurs at a dinner on Tuesday night before holding talks with President Dimitry Medvedev and Putin the following day.
Russia is a major market for Turkish exporters and contracting groups but they such business has suffered due to the aftermath of the Georgian War of 2008.
Turkey and Russia largely tackled problems in customs, food exports and transportation in August 2009 when Putin made a surprise visit to Ankara to request permission to conduct feasibility studies on the South Stream gas pipeline projected to run under Turkish waters.
"We're looking for a mechanism to prevent any more crises and put the relations on a sound footing," a separate Turkish official told the Daily News on the condition of anonymity.
Russia, the world's biggest energy exporter, will carry its crude oil through a Samsun-Ceyhan pipeline currently being constructed from the Black Sea to the Mediterranean port. Turkey is soon to announce two tenders for nuclear power plants for which Russia's Atomstroy is said to be a potential bidder.
The officials are also expected to review the natural gas purchase agreement that expires in 2011. Experts suggest it is time for Turkey to ask for a price reduction while domestic consumption is less than the total amount imported given that Iran and Azerbaijan can supply gas at considerably cheaper prices.
State-run gas importer BOTAŞ has also been contracted to annually pay Iran for a specified amount of gas regardless of whether or not the gas is consumed. As a result of decreased domestic demand, Turkey will pay approximately $1 billion for gas unused in 2009.
The Foreign Economic Relations Board, or DEİK's, Turkish-Russian Business Council co-chairman, Cem Kozlu, said: "Trade between Russia and Turkey had a narrower scope 15-20 years ago. Now, what is different and good is having dynamic and multi-dimensional trade relations."
Officials predict a $38 billion trade volume in 2010 that will reach its target quicker than in 2008. Kozlu suggested there is a promising potential waiting to be activated. "It is not just in the hands of politicians or the CEOs of big firms to set trade volume targets," he said, adding that there is a chance for new opportunities with many more actors in the picture.
Turkey's Foreign Minister Ahmet Davutoğlu, Energy Minister Taner Yıldız, Transport Minister Binali Yıldırım, Foreign Trade Minister Zafer Çağlayan and Agriculture Minister Mehdi Eker will also be among the visiting delegation.