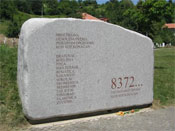 One year after the European Parliament adopted a resolution condemning and commemorating the genocide committed in Srebrenica in 1995, politicians in Bosnia's Serb-dominated entity of Republika Srpska remain reluctant to consider taking a similar move.
Serbia's President Boris Tadic is urging Serbia's Parliament to adopt a resolution condemning the massacre, and if it does Bosnia will be the only country in the region without a similar resolution.
Asked to comment on Tadic's initiative, Republika Srpska's prime minister Milorad Dodik said it is "unacceptable" to consider a resolution about Srebrenica.
"We cannot accept to mark just one crime and give it historical significance," said Dodik to media in Republika Srpska's capital Banja Luka, adding that he has no doubt that crimes were committed in Srebrenica in 1995, but that this was only "one of the crimes" from the 1992-95 war.
Igor Radojicic, president of Republika Srpska's National Assembly, agreed with Dodik, adding that together with crimes committed in Srebrenica, World War II crimes, such as the crimes committed in the notorious concentration camp Jasenovac in Croatia, where thousands of mainly Serbs lost their lives, should also be considered.
On 15 January, 2009 the European Parliament adopted a Resolution on Srebrenica calling on the Council of Ministers of the European Union and the European Commission, a well as Western Balkan countries, to endorse the resolution and proclaim 11 July, the day the massacres began, a day of commemoration throughout the EU.
Parliamentarians, who voted overwhelmingly in favour, agreed that a resolution "was the best way of paying respect to the massacre victims and sending a clear message to future generations".
Slovenia, Croatia and Montenegro adopted similar resolutions last year. And while Serbian parliamentarians agree it is necessary to condemn the crimes committed during the wars in the former Yugoslavia, they disagree on whether there should be a resolution singling out Srebrenica.
In 1995 about 8,000 man and boys were summarily executed after the Bosnian Serb army lead by General Ratko Mladic entered the city. Mladic is indicted by the International Tribunal for War Crimes for genocide and crimes committed in Bosnia and Herzegovina during the war, but is still at large.