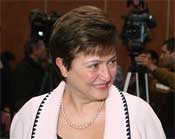 Bulgaria's new EU Commissioner-Designate, World Bank VP Kristalina Georgieva, is going to meet with EC President Jose Manuel Barroso on Thursday.
This has been announced by a source from the European Commission.
After the meeting, it would become clear if Georgieva is going to get exactly the same portfolio – i.e. international cooperation, humanitarian aid, and crisis prevention – as Bulgaria's first bidder, Rumiana Jeleva – who withdrew Tuesday after her nomination was disputed in the EP over alleged conflict of interests and lack of competence.
EC President Barroso was the first one to announce Tuesday he had been informed by the Bulgarian Prime Minister Boyko Borisov that Georgieva is the new EC bidder. Borisov has not confirmed this publicly before the Bulgarian media yet but has also not rejected it. EP President Buzek has announced that Georgieva's hearing is scheduled for February 3, 2010, thus putting off the EP vote on the new Commission by two weeks – from January 26 to February 9.