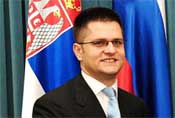 FM Vuk Jeremić today in Belgrade addressed a recently announced plan of "integration" of northern, Serb parts of Kosovo into Priština's institutions.
Speaking after his meeting with Czech Deputy PM Jan Kohout, Jeremić said this was a provocation coming from the "illegal International Civilian Office (ICO) and the illegal institutions in Priština".
He evaluated that such an announcement cannot contribute to the stability of the southern Serbian province.
"The provocative announcements of illegal institutions in Priština, as well as of the illegal international organizations such as the so-called International Civilian Office, are something that cannot lead to the easing and stabilization of the situation on the field, which should be everybody's aim," Jeremić said.
ICO and the Kosovo Albanian government announced they were preparing a strategy for the north, which includes "decentralization of municipalities in the north and the enforcement of Kosovo laws" in that part of the province.
Jeremić said today in Belgrade that the situation in Kosovo is "serious and complex", and added that it was for this reason that the Serbian delegation, which will on Friday attend the UN Security Council session in New York, will be headed by Serbian President Boris Tadić.
"We view the situation in Kosovo as extremely serious and complex, and that is one of the reasons why we decided that Serbia be presented at the highest state level before the Security Council," said Jeremić.
Serbia's foreign minister also stated that the country "insists on finding a compromise solution and a way to continue cooperation, in spite of the different positions on the status of the southern Serbian province".
"Serbia is doing all it can to preserve peace and stability in every part of its territory, including the region over which it does not have full administrative capacity," Jeremić concluded.