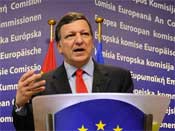 European Commissioner President José Manuel Barroso is scheduled to confer on Thursday with World Bank's Kristalina Georgieva, the replacement candidate for Bulgaria's new commissioner.
The meeting comes a day after Barroso announced that Georgieva is nominated for the same portfolio – that of humanitarian aid – as that of the original bidder Rumiana Jeleva, who withdrew earlier this week as pressure for her removal mounted on the European and home front.
EC President Barroso was the first one to announce Tuesday he had been informed by the Bulgarian Prime Minister Boyko Borisov that Georgieva is the new EC bidder. Borisov has neither confirmed no denied the candidature yet.
European Parliament president Jerzy Buzek said Georgieva's confirmation hearing would be held on February 3rd with a vote on the new commission likely on February 9th, two days before an EU leaders' summit on the economy.
This means the incoming commission will have scant time to prepare its contribution to the summit, an effort to find ways of giving new impetus to the union's nascent economic recovery.
Barroso suffered a big setback as the European Parliament claimed a scalp with the resignation from his incoming executive of Bulgaria's foreign minister, Rumiana Jeleva.
Senior MEPs questioned Barroso's political judgment in agreeing to the nomination of Jeleva, whose feeble performance in a parliamentary confirmation hearing last week led Socialist, Liberal and Green MEPs to rally against her.
The European Commission President found himself at an impasse after Rumiana Jeleva ran into trouble during the parliamentary confirmation hearing on January 12, which descended into disarray amidst claims that she was less than frank about her business affairs.
A few days later Barroso backed Bulgaria's embattled European Commissioner candidate despite the risk of voting out the entire EU executive.
The tenor of his endorsement however was not very strong. He said Jeleva had the "necessary general competence" and international experience for the job and showed the "necessary levels of European commitment".
The statement of the European Commission President Jose Manuel Barroso was in response to Thursday's letter by European Parliament chief Jerzy Buzek, which asked for clarifications on the Bulgarian commissioner-designate.