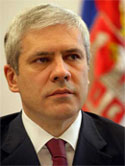 The UN Security Council will debate on the situation in Kosovo in New York this Friday, at a session to be addressed by the Serbian President Boris Tadić.
Tadić is due to speak at the council at 21:00 CET.
The session will consider the latest three-monthly report of UN Secretary General Ban Ki-moon about the situation in Kosovo, in which Serbia and Kosovo are urged to find a way to put aside the status considerations and commit to the resumption of regional cooperation.
Besides the Serbian president, the member of the delegation is Foreign Minister Vuk Jeremić, who said that "Serbia will be represented at the highest level on Jan. 22, because of the extremely serious and complex situation in Kosovo."
UN mission in Kosovo, UNMIK, chief Lamberto Zannier will also present his report.
Tadić has announced that he will speak before the Security Council, as the highest body of the UN about the threat to the safety of all people in the region, caused by the statements of the outgoing Croatian president, Stjepan Mesić, who said that he would use military means to cut the corridor on the Bosnian side of the Sava river valley in the event a referendum on the independence of the Republic of Srpska (RS).
Kosovo Foreign Minister Skender Hiseni will also come to New York because of the session of the UN Security Council.
In his report for the period from September to December 2009, Ban Ki-moon said that the security situation in Kosovo is relatively peaceful, but potentially fragile.