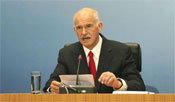 Greek Prime Minister George Papandreou called on farmers to lift blockages, noting that in the hard conditions of the financial crisis the authorities in the country cannot grant them financial support.
The protesting Greek farmers have been blocking the Bulgarian-Greek border and the main motorways in the country for eight days. They have asked for raising the prices of their production.
Bulgarian Prime Minister Boyko Borisov said Monday the government must allot EUR 10 mln to compensate the losses of the Greek farmers' blockages.
In the spring of 2009 farmers have protested against the low prices of the production. On April 7, 2009 several thousand farmers have gathered in front of the Parliament building in Athens and have given people 20 thousand bottles of milk.