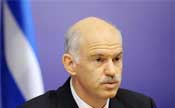 The resolution of the name dispute is the ticket of the Former Yugoslav Republic of Macedonia (FYROM) to EU accession, Greek Prime Minister George Papandreou said. He has attended the Parliamentary Assembly of the Council of Europe in Strasbourg.
Papandreou has met the newly elected President of PACE Movlud Cavushoglu. They have hold talks on the economic crisis, Cyprus issue and human rights.
Greek PM said after the meeting Turley should stop threatening bilateral relations by using force and invited Turkey Prime Minister Recep Tayyip Erdoğan to visit Greece.