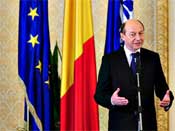 Romanian President Traian Basescu landed in Republic of Moldova's capital Chisinau on Wednesday morning, January 27, 2010. The Romanian delegation was received with military honours, and the traditional bread and salt. Moldavian temporary president Mihai Ghimpu greeted Basescu at his plane stairs.
Before leaving Bucharest, the chief of state declared that the Republic of Moldova does not need only Romania's political support, but also Romania's direct support.
"We'll have to think about the way the authority in Chisinau understands this support. We already have a perspective", Basescu stated. He mentioned that the aims of the visit regard "the cooperation between Romania and the Republic of Moldova, in support of Moldova's effort to get closer to the European Union for EU integration". Another issue on the agenda will be the management of European funds.
Basescu's visit schedule
According to stireazilei.md, the two presidents will have a tet-a-tet meeting today at the State Residence in Chisinau, followed by a plenum session of the two delegations.
Towards noon, Mihai Ghimpu will offer Traian Basesu the Order of the Republic, the highest state distinction. Joint press statements will follow. The officials will lay flowers at Stefan cel Mare's grave.
At noon, Basescu will meet PM Vlad Filat for official discussions.
In the afternoon, Basescu will be accompanied by Moldovan officials to the graves of Grigore Vieru, Ion si Doina Aldea Teodorovici, Gheorghe Ghimpu, where they will bring flowers. In the afternoon, Basescu will visit the Mayor of Chisinau Dorin Chirtoaca for discussions.
At 18 o'clock, the Romanian President is scheduled to meet the parliamentarian fractions and at 21:45 – the Alliance for Integration leaders.