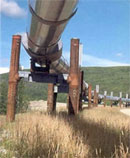 The future of the Nabucco pipeline project is still not certain, an executive of Austrian energy giant OMV told reporters on Wednesday.
Between July and October 2010, an open season bidding process for transport capacity in the planned pipeline will be held. The future of the project will then be assessed against the resulting forecasted demand.
"We will start the open season process this year, then we will either get enough demand or we won't," said Werner Auli, OMV's head of oil and gas, speaking at the annual European Gas Conference in Vienna. He added that he was optimistic about the level of demand.
However, pointing out that he represented a commercial organization, and not an institution, Auli said the decision would be made on pragmatic business terms. If the demand turned out to be insufficient, the project would be terminated, he said.
"If not, Nabucco will not be built, this is very simple. We are a commercial company, we are not an institution," he stated.
Besides OMV, Bulgaria's Bulgargaz, Turkey's Botas, Germany's RWE, Hungary's MOL and Romania's Transgaz are all partners in the EU-backed project, which would reduce European reliance on Russian gas supplies.
The pipeline, skirting around Russian soil, would bring gas from the Middle East and the Caspian region to Europe. Russian gas pipeline export monopoly Gazprom also has a rival project, South Stream, with several international cooperation memoranda already signed.