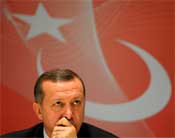 Turkish Prime Minister Recep Tayyip Erdogan said Friday his government is determined and patient enough to achieve full membership to the European Union (EU) in spite of the attempts to block its accession process.
"Turkey has been waiting for the result of its application to the EU for 50 years, but we have patience," the semi-official Anatolia news agency quoted Erdogan as telling a joint press conference with his Bulgarian counterpart Boyko Borisov, who is on a visit to Ankara.
Turkey has been working hard for the membership with a full determination, Erdogan said, noting that he believes Bulgaria will continue to support Turkey's EU bid.
Turkey first applied for associate membership in the European Economic Community, a now defunct international organization formed during European countries' integration process in 1959.
The EU agreed to launch accession talks with Turkey in October 2005, but progress was slow.
The 27-nation bloc has urged Ankara to normalize relations with Cyprus and speed up reforms to improve human rights and democracy. France and Germany have said they favored a "privileged partnership" instead of full membership for the mainly Muslim- populated country.
At Friday's press conference, Erdogan said Turkey's cooperation with Bulgaria on national and international platforms increased Turkey's regional power and called for a boost in bilateral trade.
Annual trade volume between Turkey and Bulgaria has reached nearly EUR 3 million and 1.4 million Bulgarians visited Turkey in 2009, he said.
Erdogan said he had discussed with Borisov on energy projects and other areas for cooperation during a meeting earlier Friday.
Borisov arrived in Turkey for a two-day official visit at the invitation of Erdogan.