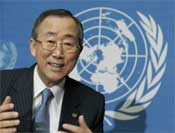 UN Secretary-General Ban Ki-moon has arrived in Cyprus on a mission to re-energise peace talks between the island's estranged Greek and Turkish communities.
Their leaders have been engaged in 17 months of open-ended negotiations which have achieved some movement on the key issue of power-sharing under a federal model, but progress has been generally slow.
On his arrival, Ban Ki-moon said: "I am under no illusion that the Cyprus problem is easy to solve or about the difficulties that you face. At the same time I am confident that a solution is possible and within reach."
Cyprus was divided into Greek Cypriot south and Turkish Cypriot north back in 1974. This, the UN chiefs first ever trip to the island is a personal show of support for the negotiators, Greek Cypriot President Dimitris Christofias and Turkish Cypriot leader Mehmet Ali Talat.
Ban wants to end the long standing mistrust which is impeding Turkey's European Union membership and harming EU-NATO cooperation.
The division of Cyprus followed a Turkish invasion after a brief coup by supporters of a union with Greece.
The Turkish Republic of Northern Cyprus is recognised only by Turkey.