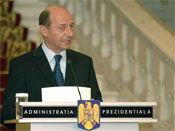 Moldovan Prime Minister Filat spoke in the phone with Romanian President Traian Basescu about the implementation of previous agreements.
Basescu thanked Filat for Moldovans' authorities welcome, while Filat appreciated Romania's constant support.
The 2 officials convened the Radauti-Lipcani bridge would be opened in 10 days. Besides, negotiations regarding Romania's financing for infrastructure projects in Moldova will begin in Bucharest in 2 weeks. Romania will allot Moldova 25 million euros yearly, over the next 4 years.
Filat discussed with his Romanian opposite number about future government cooperation.