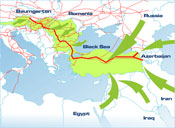 We cannot miss saying that this is some long-awaited agreement. It is a result of the work of many governments since 2002 till now, MP Ramadan Atalay from the Movement for Rights and Freedoms (MRF) party said, commenting on the ratification of the Nabucco Agreement.
"This is an agreement for the launching of exploitation of one European project. The diversification would have been already a fact, if former PM Ivan Kostov's government had taken the right decision. Then, representatives of the government, including Ivan Kostov himself, explained that there is no chance for the Blue Stream to be realized", Atalay said.
Atalay called for the MPs of the ruling Citizens for European Development of Bulgaria (CEDB), to vote in contrast to the personal opinion of Prime Minister Boyko Borisov, who said in Germany that there is no chance for Nabucco to be realized. The prime minister confused me by saying in Turkey that he will work hard for Nabucco, Atalay added.
Nabucco is a pipeline, if there is no gas, the Blue Stream will be attacked and the gas will be transited through Nabucco, said MP Petar Dimitrov from the Coalition for Bulgaria. He said that thanks to the work of the previous government it was possible to apply for financing of the gas distribution networks with Greece and with Romania.