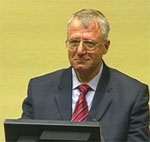 The Hague Prosecution has filed a new indictment against Vojislav Seselj for contempt of the Tribunal.
For a second time, Seselj has been indicted for disclosing names of protected witnesses in one of his books.
According the latest indictment, Seselj disclosed the names, occupations and residences of 11 witnesses. The title of the book has not been made public.
In July 2009, Seselj was sentenced to 15 months' imprisonment for contempt of court for revealing the identities of three protected witnesses.
Seselj, leader and founder of the Serbian Radical Party, SRS, is currently on trial in before the International Criminal Tribunal for the Former Yugoslavia, ICTY, for war crimes committed in Croatia and Bosnia and Herzegovina. The charges against him include murder, forced deportation, illegal imprisonment, and torture and property destruction.
Earlier this week, on February 2, Seselj indicated that he intended to file a motion for acquittal in late March. In his view, the Prosecution has failed to submit a single valid piece of evidence proving his responsibility for the crimes he is charged with.
Seselj's trial began in November 2007.