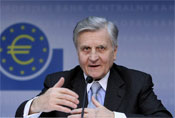 European Central Bank President Jean-Claude Trichet backed Greece's austerity measures, saying he is confident that the country will do what is needed to cut the budget deficit.
"We expect and we are confident that the Greek government will take all the decisions that will permit them to reach that goal," Trichet said at a press conference.
Greek proposals announced this week to extend wage freeze in public sector and to rise the retirement age are steps in the right direction.
Triichet made it clear that the ECB sees the stability and growth pact, which limits deficits to 3% of gross domestic products, as sacrosanct. Greece last year ran a deficit of 12.7% and has vowed to cut it to 2.8% by 2012.