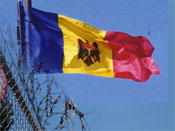 The former Soviet republic of Moldova began dismantling the last barbed wire fences along its border with Romania, Moldovan officials said, according to AFP.
"In every region there are dismantlement plans that must be adhered to without fail," Prime Minister Vlad Filat said Wednesday, according to his spokesman Igor Volnitchi.
"We must not make this a political process, but work for the people's good." Some 360 kilometres (220 miles) of barbed wire throughout 10 regions in Moldova are to be taken down. They will be stored at border posts for destruction later.
Filat, an advocate of closer ties with the European Union, in December called the fences "shameful" and out of place in 21st-century Europe. He became prime minister in September.The first barbed wire fences separating Moldova from Romania were erected by Soviet authorities in 1940 along the river Prut, a tributary of the Danube that marks the border between the two countries.Moldova was part of Romania until 1940, when it was forcibly integrated into the Soviet Union as part of a secret Nazi-Soviet pact.
Much of the barbed wire was taken down after Moldova won independence in 1991, but the Communist government that ruled the impoverished ex-Soviet country from 2001 to 2009 opposed further dismantling of the barrier.The coalition of liberal parties that beat the Communists in legislative polls last July has sought closer ties with Romania, an EU member.The two countries have close cultural links, and both use Romanian as their official language.