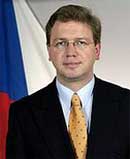 EU Enlargement Commissioner Stefan Fule will visit Macedonia on February 19th, Macedonia's foreign ministry said on Thursday.
Commissioner Fule will meet with Macedonia's Prime Minister Nikola Gruevski, Deputy Prime Minister in charge of EU integration Vasko Naumovski, and Foreign Minister Antonio Milososki.
The newly-appointed EU enlargement chief took up his duties on February 10th following a three-month caretaker period. He made an address to the European Parliament on Wednesday, during a debate on European Commission's progress reports on Macedonia, Croatia and Turkey.