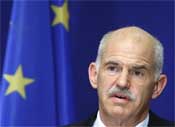 The prime minister of debt-stricken Greece will visit Russia next week for talks with his counterpart Vladimir Putin, the Russian government announced on Friday.
Greek Prime Minister George Papandreou will visit Russia on February 15-16 for a trip focusing on "economy, energy and military-technical cooperation," the government said in a statement released on state news agencies.
A Russian government spokeswoman could not immediately say whether the Greek debt crisis would be on the agenda.