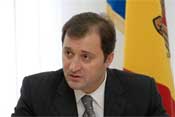 The Moldovan Prime Minister Vlad Filat invite the Romanian Minister of Administration and Interior, Vasile Blaga, to put his shoulder to "demolishing the wired fence". The cut the wire in pieces. Filat said that he will take several more pieces to Chisinau.
Vlad Filat: After 66 years, finally going over the Prut is possible. "We made it!", exclaimed Filat. "Next we shall follow everything step by step, so that the right of the citizens to be realized. Soon we shall live and travel freely", said Filat.
Vlad Filat: "I congratulate everyone on this event, and I want to say it one more time: Moldova is an European Country, with European citizens, who will benefit of all the benefits which Europe offers", said Moldovan PM.