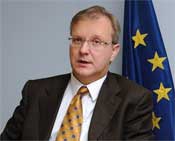 EU Commissioner for Economic and Monetary Affairs Olli Rehn is to arrive on a visit to Athens on March 1 to hold talks with the members of the Greek government, including with the Minister of Finance, the Minister of Labor and Social Insurance and the Minister of Economy and Competition, ANA-MPA.
Rehn will be previously briefed by European Commission officials over this week's visit to Athens by a delegation of EU experts, who in turn, were briefed by Greek officials on the course of the closely watched Stability and Growth Program that Athens tabled to the Commission recently.
Sources from Greece remarked yesterday that during the talks with representatives of the Greek ministries and the Greek central bank, Commission experts have expressed fundamental objections against the prognoses of the Greek government for economic growth and the state revenues collectability, the agency points out.