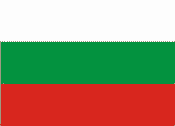 On 3 March 1878 Bulgaria regains its independence from the Ottoman Empire. On Wednesday the country celebrates the 132nd anniversary of its independence. Events will take place across the country.
The national flag will be hoisted in front of the Monument to the Unknown Soldier in Sofia at 11:00 a.m. local time. In the evening, at 6:30 p.m., an official ceremony will be held in National Assembly square to honor the heroes who gave their lives for Bulgaria's freedom.
Commemorative events with the participation of the Bulgarian Armed Forces will take place also in the cities of Plovdiv, Varna, Burgas, Dobrich, Karlovo, Pleven, Stara Zagora, Smolyan, Asenovgrad, Gorna Oryahovitsa and Belene.
The Liberation of Bulgaria was celebrated for the first time on 19 February 1880 as the Day of the Emperor Alexander II's Ascension to the Throne and signing of the Treaty of San Stefano. Since 1888 it has been celebrated as the Day of the Liberation of Bulgaria. The holiday was marked for the time according to the New Style dates on 3 March 1917. On 5 March 1990 the day was declared a national holiday.