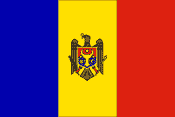 Moldova will hold a referendum on the new constitution instead of early elections after its parliament failed to elect a president twice last year, acting leader Mihai Ghimpu said Tuesday.
The ruling coalition "agreed that there will be no early elections as they can bring about the repetition of the scenario when the parliament could not elect a president," Ghimpu said.
The adapted constitution would be first discussed in parliament and then presented to the public, he said.
"It will not be a completely new law. There will be amendments that would allow us to avoid current legal tie-up and overcome the crisis," Ghimpu added.
Prime Minister Vlad Filat said parliament would not be dissolved but would work out its four-year mandate.
Moldova's ruling coalition is made up of four pro-European liberal parties and the president is chosen by members of parliament.