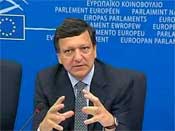 European Commission President Jose Manuel Barroso has called on European leaders to support Commission's proposal about economic assistance for Greece.
Barroso said that if no decision is made at the summit on March 25, eurozone stability will be in danger. The EC President called on the state and government leaders to back up the Commission's proposal about a system of coordinated loans for Greece.
Similar statements came also from Spanish Foreign Minister Miguel Angel Moratinos who said the Spanish Presidency would work to improve the Greek aid plan within this week's summit.