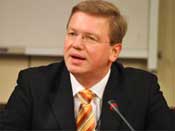 Enlargement Commissioner Stefan Fuele said on Friday (March 19th) that the EU expects Kosovo to step up efforts to fight crime and corruption and strengthen the rule of law. After talks with Prime Minister Hashim Thaci and President Fatmir Sejdiu in Pristina, Fuele stressed the importance of guaranteeing political stability and security for all communities in Kosovo.
He told Pristina authorities that there is consensus within the EU over Kosovo's European perspective. Sejdiu said that Kosovo has a vision for its EU and NATO integration, but noted there is still work to do to achieve these goals.
On Friday, Fuele visited Tirana, where he voiced satisfaction with Albania's progress in its EU visa liberalisation process. After talks with Prime Minister Sali Berisha, Fuele urged local politicians to overcome their political crisis as it could affect Albania's EU bid. The opposition Socialist Party insist on a thorough investigation of the June 2009 parliamentary election which they claim were manipulated. The ruling Democratic Party has ruled out the possibility of a recount.