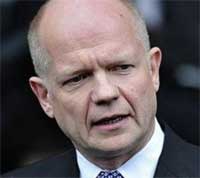 British Foreign Secretary William Hague vowed continued support for Mali's fight against Islamist militants as he visited the west African country on Monday, his ministry said.
The Foreign Office said Hague had met with Mali's president and prime minister as well as French-backed African troops fighting the rebels during the one-day visit, which was not announced before his arrival for security reasons.
"The evolving threat from terrorist groups in Mali has necessitated an urgent international response to help the Malians restore their territorial integrity and deny terrorists a safe haven in their country," said Hague.
"I welcome the progress made by French, Malian and African military forces in the north of Mali. The UK will continue to support this tough security response, including through the EU training mission."