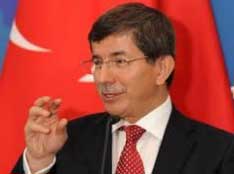 Turkey's Foreign Minister Ahmet Davutoğlu will visit Kurdish-populated Diyarbakır province amidst efforts to end three decades of insurgency. Davutoğlu will travel to Diyarbakır late March 14 to deliver a speech at a university the morning of March 15.
The minister will meet representatives of civic society, prominent figures of the southeastern city and party members of the Justice and Development Party on March 15.
His meeting in Diyarbakır comes ahead of Kurds' Newruz celebrations on March 21.