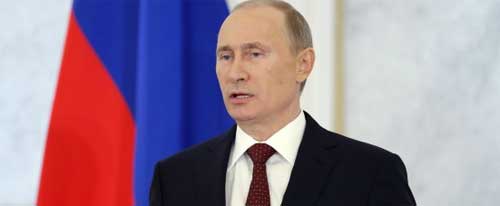 Russia's initiative to place Syrian chemical weapon stockpiles under international control will only be feasible if the United States and its allies pledge not to use force, Russian President Vladimir Putin said Tuesday.
It is difficult to obligate any country, including Syria, to unilaterally disarm if force is going to be used against it, Putin said, adding that the Russian authorities "will work together with the Syrians and with our American partners."
"To reiterate, I hope that this will be a good step toward a peaceful resolution of the crisis," Putin said.
Moscow hopes that Syria will accept international control over its chemical weapon stockpiles and will also join the convention forbidding the use of chemical weapons, Putin said.