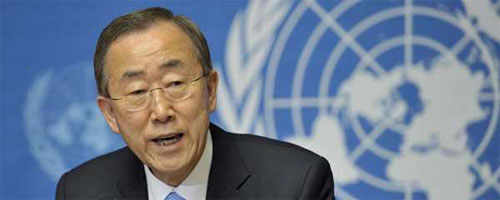 UN chief Ban Ki-moon will on Monday present a report on Syria's chemical weapons, increasing pressure on the Assad regime, as support grows for a US-Russian initiative to avert war.
Ban will unveil the findings of a UN investigation team to the UN Security Council in New York at 11:15am (1515 GMT). He has already revealed that he expects the report to provide "overwhelming" confirmation that chemical arms were used in an attack near Damascus on August 21 in which hundreds died.
The Russia-US accord on the dismantling of Syria's chemical stockpile will also weigh heavily on Security Council consultations expected to be called Monday.
International support for the initiative is growing, even as Washington and Paris warned that military action remains an option.
A Syrian minister insisted Sunday that the US-Russia deal represented a "victory" for the regime of President Bashar al-Assad.
"On one hand, it helps the Syrians emerge from the crisis and on the other it has allowed for averting war against Syria," Minister of State for National Reconciliation Ali Haidar said.
"It's a victory for Syria that was achieved thanks to our Russian friends."
His remarks came as US Secretary of State John Kerry met Israeli Prime Minister Benjamin Netanyahu to brief him on the plan and emerged with a word of warning for Damascus.
"The threat of force remains, the threat is real," Kerry said at a joint news conference in Jerusalem with Netanyahu.
Washington is seeking to bolster international support for the agreement signed in Geneva on Saturday, which demands rapid action from Damascus.
The ambitious plan to dismantle and destroy Syria's chemical arms stockpile — one of the largest in the world — by mid-2014 was thrashed out over three days in Geneva between Kerry and his Russian counterpart Sergei Lavrov.
It gives Assad a week to hand over details of his regime's arsenal of the internationally banned arms in order to avert unspecified sanctions and the threat of US-led military strikes.
It also specifies there must be immediate access for arms control experts and that inspections of what the US says are some 45 sites linked to the Syrian chemical weapons programme must be completed by November.
French President Francois Hollande, whose country has taken a hard line against Assad's regime, said the deal was an "important step" but "not an end point".