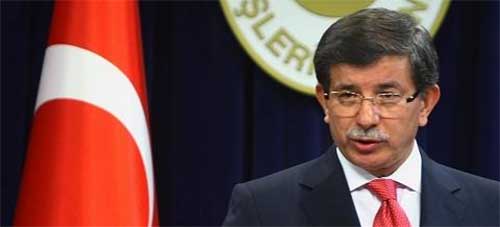 Turkish Foreign Minister Ahmet Davutoğlu met with members of the Syrian community in the United States on Saturday as part of talks on the sidelines of the United Nations General Assembly in New York.
The delegation representing the Syrian community in the US conveyed their thanks to Turkey for its "principled stance" towards the crisis in Syria as well as the support Ankara has provided for the people of Syria. The delegation also told Davutoğlu that Turkey will be the country that contributed the most to the peace, stability and democracy in Syria once the country completes the revolution, senior Turkish diplomats told the media.
The Syrians who met with Davutoğlu also complained about the indifference of the international community towards the crisis in the country.
During his time in the US, Davutoğlu is expected to meet delegations focusing on Turkey's UN Security Council candidacy and Syria. Davutoğlu will head the Conference on Interaction and Confidence Building Measures in Asia (CICA) and attend the Global Counterterrorism Forum in New York, the Turkish Foreign Ministry said on Friday.
For his part, the Turkish foreign minister told the delegation that it was impossible for Turkey to do nothing in the face of developments in neighboring Syria, assuring the Syrian community that Turkey will continue to remain in solidarity with the people of Syria. He told the delegation that Syrians will win their fight against Bashar al-Assad's regime sooner or later.