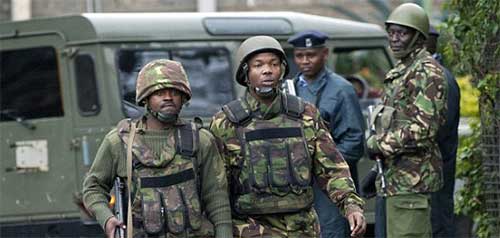 Kenyan security forces were in the final stages of flushing out Al-Qaeda-linked terrorists from a besieged shopping center, the vice president said late Monday, two days after the upscale mall was seized by members of a Somali terrorist group that invaded with guns blazing.
The country's interior minister said it was unlikely that any more hostages remained inside Westgate Mall.
Three attackers had been killed in the fighting Monday, officials said, and more than 10 suspects arrested. Eleven Kenyan soldiers were wounded in the running gunbattles. By evening, Kenyan security officials were claiming the upper hand.
"Taken control of all the floors. We're not here to feed the attackers with pastries but to finish and punish them," Police Inspector General David Kimaiyo said on Twitter.
Kenya's interior minister said the evacuation of hostages "has gone very, very well" and that Kenyan officials are "very certain" that there are few if any hostages left in the building.
Vice President William Ruto landed in Kenya late Monday after International Criminal Court officials in The Hague gave him permission to return to Kenya. Ruto is on trial for crimes against humanity charges over allegations he helped orchestrate Kenya's 2007-08 post-election violence.
Ruto said security forces were in the final stages of flushing out any remaining terrorists inside the mall.
Interior Minister Joseph Ole Lenku also revised the death toll to 62. Kenyan officials earlier said 59 people have died since the siege on Westgate Mall began on Saturday, while the Red Cross had put the toll at 68, then in a tweet lowered it to 62, saying some bodies had been counted twice.