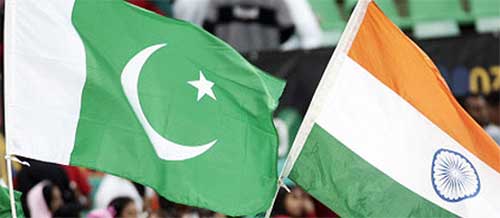 Pakistani Prime Minister Nawaz Sharif met Sunday his Indian counterpart Manmohan Singh in ground breaking talks aimed at reducing tensions and resuming the peace process.
The two Prime Ministers shook hand and introduced members of their respective delegates and the flags of the two countries formed the background of the meeting held on the sidelines of the United Nations General Assembly in New York.
The Prime Ministers had "extremely positive" meeting as the top political leaders expressed willingness and commitment to improve bilateral relations, said a Pakistani official.
Foreign Secretary Jalil Abbas Jilani in a press briefing, quoted by media here, said that the meeting aimed at creating a positive environment, conducive to pushing peace in South Asia.
He said Sharif called for resolution of all outstanding issues including Jammu and Kashmir dispute, foreign interference in Balochistan, Siachen, Sir Creek and water issues.
The prime ministers also discussed the recent tensions along Line of Control in disputed Kashmir region and the two sides agreed to establish a mechanism for not only to investigate such unfortunate incidents but also to ensure that there is no recurrence of such incidents, he added.
Jilani said Sharif also extended an invitation to Singh to visit Pakistan.
India has also described the meeting between Sharif and Singh as "constructive and useful." The National Security Advisor of India, Shiv Shankar Menon said that the two sides agreed on the need to enforce ceasefire along the Line of Control in Kashmir, adding that both the prime ministers extended invitations to each other to visit their respective countries.