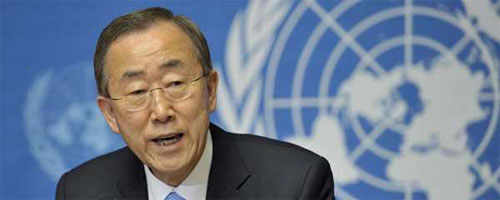 UN Secretary General Ban Ki-moon met here late Monday with Nabil El-Arabi, Secretary General of the Arab League, discussing with him issues pertaining to the Syrian crisis.
Ban briefed his counterpart on recent developments at the United Nations relating to Syria and expressed strong hopes that the successful initiative on chemical weapons, which led to a Security Council resolution last week, would help create momentum that could lead to increased humanitarian access and a political solution for the crisis, a UN statement said.
They also discussed arrangements for the Geneva conference, and the importance of a single, unified, and credible delegation on the opposition side. "All outside parties should encourage the various Syrian groups to participate in the Geneva process and thereby help put an end to the appalling bloodshed," the statement pointed out.