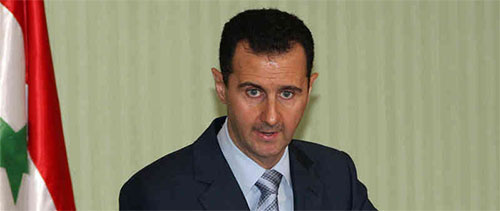 Syrian President Bashar al-Assad warned Turkey it would "pay dearly" for supporting rebels fighting to overthrow his regime, in an interview broadcast Friday on Turkish television.
"In the near future these terrorists will have an impact on Turkey. And Turkey will pay very dearly for its contribution," al-Assad told the opposition station Halk TV.
He was being interviewed over the presence of al-Qaeda-linked rebels on the long and volatile border between the two nations. There are several hardline Islamist groups among the numerous rebel formations fighting in Syria.
"It is not possible to use terrorism as a card and put it in your pocket. Because it is like a scorpion which won't hesitate to sting you at any moment," said al-Assad.
Relations between once close allies Damascus and Ankara have deteriorated since a popular uprising which began in March 2011 in Syria snowballed into a full-blown conflict that has claimed more than 115,000 lives and forced millions to flee.
Turkish Prime Minister Recep Tayyip Erdoğan's government has become one of the most fervent supporters of the Syrian rebellion.