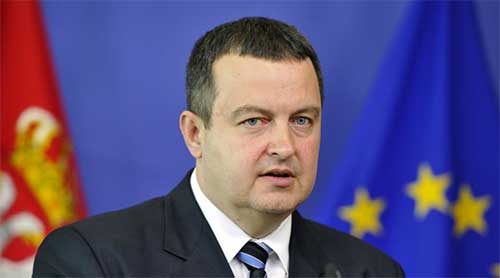 Serbian Prime Minister Ivica Dačić said Friday that Serbia has a genuine intention to develop good and friendly relations with Turkey in all fields.
According to him, that it is important for the stability of the region.
At a joint press conference with Turkish Deputy Prime Minister Bakir Bozdag in Belgrade, Dačić said that political relations between the two countries are very good and that they should lead to further progress in the fields of economy, culture and education.
"Our foreign trade amounts to half a billion euros every year, and we think it can increase. We are grateful to Turkey for the donations and projects that are being implemented in Serbia," Dačić said.
He stressed the importance of the agreements on mutual abolition of visa requirements and on free trade between Serbia and Turkey.
Dačić said that in a meeting he had Turkish Prime Minister Tayyip Erdogan, he proposed holding joint government meetings which would rotate between Turkey and Serbia and it met with support it today's talks.
He also said that the Serbia-Bosnia-Herzegovina-Turkey trilateral is a practice that should continue and that Muslims and Bosniaks in Serbia are the bridge and encouragement for the development of even better relations between the two countries, which also met with the approval of the Turkish deputy prime minister.