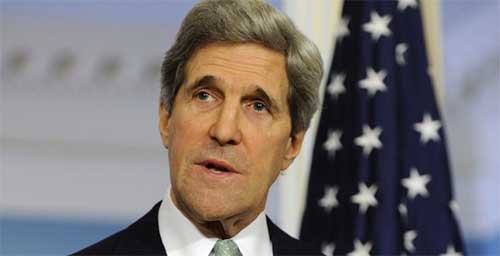 Secretary of State John Kerry today said two high-profile raids in Libya and Somalia showed the United States' unflinching determination to hunt down those responsible for terrorism.
"We hope that this makes clear that the United States of Americawill never stop in its effort to hold those accountable who conduct acts of terror," he told reporters in the Indonesian island of Bali after Saturday's raids.
The action should also make clear that "those members of al-Qaeda and other terrorist organisations literally can run, but they can't hide," Kerry added.
In Libya U.S. forces seized a militant known as Abu Anas al-Libi, a long-sought al-Qaeda operative indicted in the 1998 bombings of U.S. embassies in Kenya and Tanzania.
A separate raid was launched before dawn against a Shebab leader in the southern Somali port of Barawe. It failed to capture the senior militant and it was unclear whether he had been killed, but a U.S. official said several Shebab members were slain.
"We will continue to try and bring people to justice in the appropriate way with hopes that ultimately these kinds of activities against everybody in the world will stop," the secretary of state said.